Saw this on the Food Network and just had to make it as Kellie and I absolutely LOVE cannolis.


Ingredients
• Canola oil, for frying
• 1 package (about 36) square wonton wrappers, cut diagonally in half
• 2 cups whole milk ricotta
• 1/2 cup confectioners' sugar, plus more for dusting
• 3 tablespoons orange liqueur
• 1 cup heavy cream
• 1 cup miniature semisweet chocolate chips
• 1/2 cup pistachios, coarsely chopped
• 1/2 cup maraschino cherries, chopped
• 1/2 orange, zested
Directions
Fill a Dutch oven one-third full with oil and heat to 350 degrees F.
Fry the wontons in one layer, not overcrowding the pot. Flip the wontons once or twice until golden brown, 4 to 5 minutes. Remove the wontons with tongs or a slotted spoon and drain on a large wire rack set over a shallow pan. Repeat until all the wontons are fried.
Mix the ricotta, sugar and liqueur until well combined in a large bowl. Whip the cream in a separate bowl until soft peaks form, using a hand mixer. Fold the whipped cream and 1/2 cup of the chocolate chips gently into the ricotta mixture.
Add the ricotta-cream mixture to a medium dip bowl or 8-by-8-inch baking dish and spread evenly. Starting from the left side of bowl, make a row, from top to bottom, of pistachios, followed by a row of the remaining 1/2 cup chocolate chips, then the cherries. Dust the chips with sugar and serve.
I doubled the recipe.

The Chips...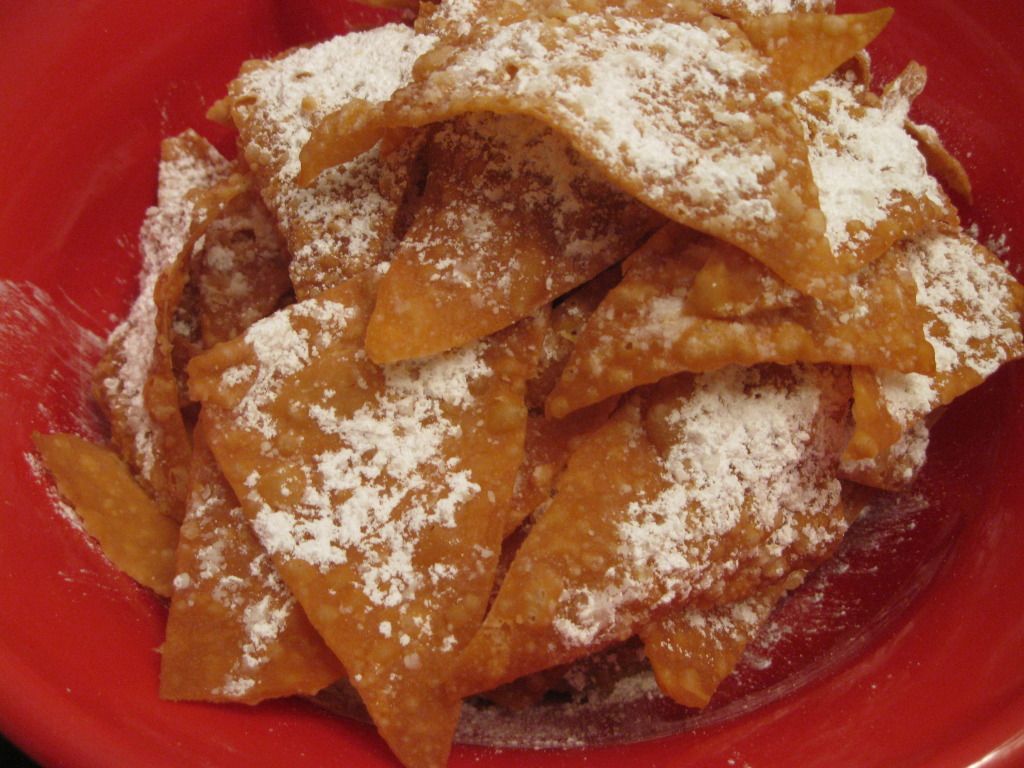 The Dip...