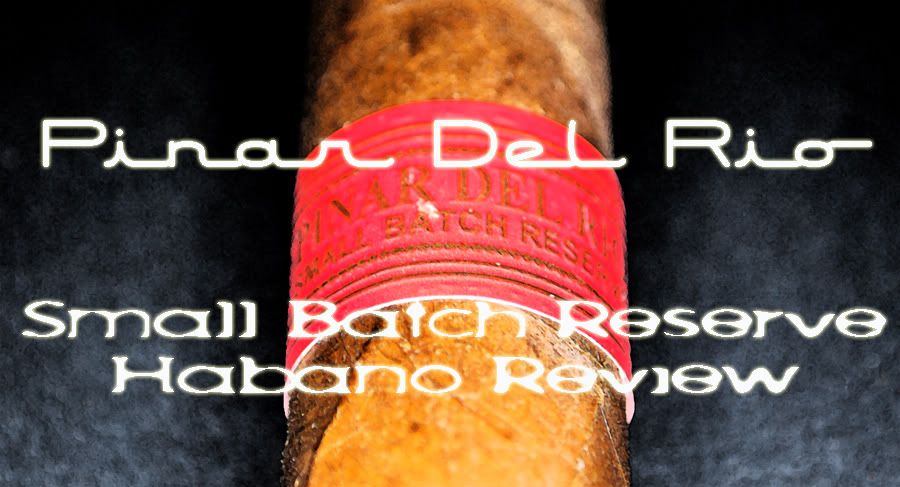 Cigar: Pinar Del Rio Small Batch Reserve Habano
Size: Gran Toro 6 x 54
Filler: Corojo Viso, Seco, and Ligero from Esteli and D.R.
Binder: Dominican Criollo '98
Wrapper: Brazilian Habano
Price: $7.25ea
Individual Weight: 18.95g
Pre-Light: One of the newest PDR lines, the Small Batch Reserve (SBR) has finally made its way onto store shelves across the country, and to those of us who are already fans of Abe Flores' other offerings, it couldn't be sooner. After receiving numerous acclaims for their PDR 1878 lines, the SBR has been released as their follow up, and they have some might big shoes to fill. Coming in at nearly 19g, this cigar is one of the heaviest Toro's we've reviewed at The Daily Tobacconist to date, and it carries its wealth of entubar rolled tubes of tobacco in a delicious looking and extremely oily Brazilian Habano wrapper. Also available in a Brazilian Maduro wrapper, the SBR is beautiful in appearance, with few veins and tons of box appeal. Its triple cap is underlined by a simply stated band comprising of gold lettering on top a red background. It is understated and flawless in design. A quick sniff of the wrapper brings a whiff of a Kinder Chocolate bar to memory, the ones with the milk filled centers. It is a very sweet smelling body, with no trace of ammonia or over fermentation. The foot smells of cedar and hay.
1/3rd: The first two puffs are a bit dry and thin tasting, but once the cherry comes up to temp, the flavors quickly develop into a deep wood flavor surrounded by leather notes and a nut flavor that is buttery in mouthfeel but leaves a warm cream note on the finish. Very smooth smoke with minimal amounts of spice for the moment, the cigar starts to really develop well through the first third adding in a bit of honey and roasted coriander. A slight burn issue an inch in requires a quick fix with my trusted triple flamed torch. Nearing the halfway point, the cigar picks up a unique coffee note that lingers at the back of the throat where you'd usually find the spice of most Habano-wrapped cigars residing.
½ Way: The cigar is drawing better now that we've gotten past the tight spot in the roll. Coffee and nuttiness dominate the flavors at this point, but there is still a middle note that is missing from the profile. I can't place what it is exactly, but it seems that there is just an empty void in the middle section of the flavors that is missing. The cigar seems to have stopped developing its flavor after the first two inches, and has stayed stagnant ever since then. The coffee notes that are currently present seem washed out and watered down.
Final 3rd: The final third starts off with a slight Agave note following up the coffee and nuts flavors. After a few more drags the Agave changes slightly into an almost Pinot Noir flavor, with notes of currants, raisins, and dark cherry notes coming through. Just when I had lost hope for this cigar on developing any more, it comes around and bites me in the ass. I go back to finding the flavor after writing that last sentence, but it appears that the taste has gone now. The final couple of inches have become a bit strong, overpowering the palette a bit with pepper and dark chocolate flavors.
Final Thoughts: The PDR Small Batch Reserve Habano proved to be a formidable smoke for those who prefer a larger ring gauge. While it isn't the powerhouse I was expecting from a small batch blend that touts itself as being comprised of Viso, Seco, and Ligero leaf, but it did have a good amount of nicotine found within. The last inch or so became very spicy which was a big change than the rest of the flavor profile, and had a much thicker mouth coating viscosity than the previous inches of tobacco. While it is a solid effort in creating a small batch blend, I would like to have a seen a bit more depth and complexity throughout the first two thirds of the stick, which very well may come from putting a few of these away for a couple of years. We do have a few more of this blend and will be revisiting it in the future to see how things develop. Until then, I would have to classify the PDR SBR as average in flavor currently, with the rolling inconsistencies taking the grade down a bit due to burn issues and draw troubles.
For the final grade and the high resolution photography, click here.