King of Rants

Join Date: Aug 2009
First Name: Jason
Location: South Florida
Posts: 1,227






Caldwell Midnight Express - Corona
---
http://caldwellcigars.com/caldwell-collection
So, this is the last cigar from my caldwell sampler. I smoked an eastern standard yesterday and didn't really care for it and my palate wasn't off. Otherwise all the caldwell's i've smoked have ranged from good to very good thus far and I can't wait to try this one out and give it a shot. My palate is rocking right now so better to strike while the iron is hot here so without further delay let's start the review!
Wrapper
: The wrapper is a nice dark chocolate wrapper one small vein, tight invisible seams, and a pigtail cap
Pre-Light/Draw
: Pre-light aroma is very faint hay and barnyard. After a straight cut the draw is picture perfect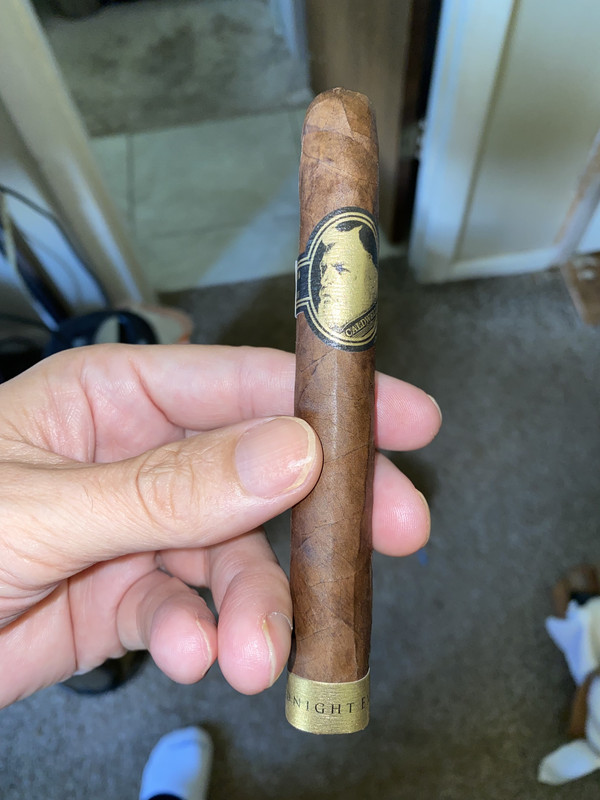 very spicy to start, earthiness, leather, pepper, white oak, baking spices, kola nuts, slight ammonia, campfire, coffee, mustiness, chocolate, molasses, hay, You can almost taste the soil it's so earthy, hint of cinnamon, dried fruits,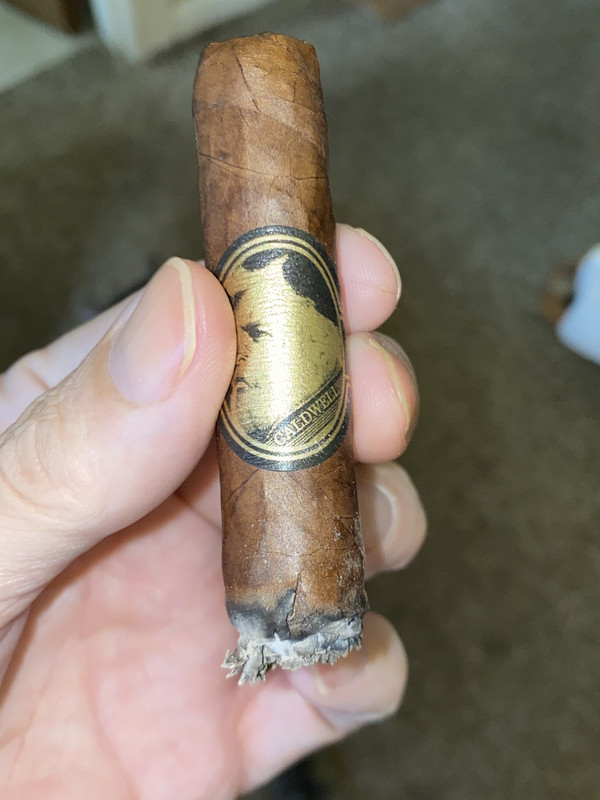 Ash fell right before this pic
Earthiness, soil, leather, pepper, cedar, baking spices, cinnamon, kola nuts, dried fruits, campfire, Finish is thick almost chewy and long, coffee, oak, minerals, mustiness, chocolate, molasses, hay, thus far a very flavorful blend,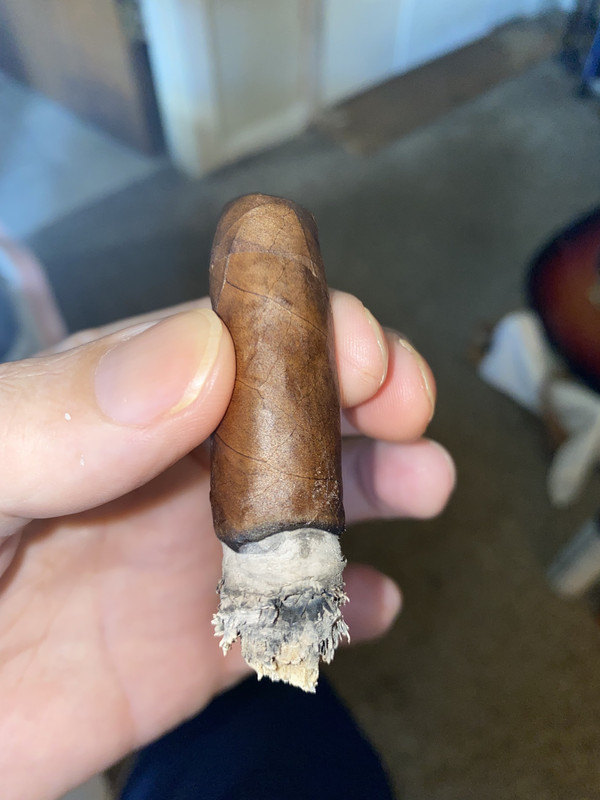 Earthiness, soil, leather, pepper, cinnamon, baking spices, very consistent flavors, kola nuts, dried fruits. campfire, burnt marshmallow, coffee, oak, spice, mustiness, chocolate, molasses, hay/grass,
Ash/Burn
: Ash was a salt and pepper gray that wanted to shed a lot. Burn got uneven at times requiring several touch ups
Final Thoughts
: So, i guess i saved the best for last out of all the Caldwells. This was a flavor BOMB. It started out strong and finished with a consistent and well progressing blend. I have no complaints here and have no problems recommending you buy these by the box. Considering that Mr Caldwell himself said they would be discontinuing this cigar you may want to buy them up now. It sucks because i may have found a new go-to smoke. Do yourself a favor and at a minimum buy yourself a 5 pack but do it quickly and don't miss out on a great cigar. I hope you enjoyed my little review today and have a blessed day! God bless you all!
PS
, Robert said he was discontinuing this on a podcast i was watching. there is no announcement of that yet so don't hold me to it if i'm wrong. He may have just been talking and nothing else
__________________
"When I have found intense pain relieved, a weary brain soothed, and calm, refreshing sleep obtained by a cigar, I have felt grateful to God, and have blessed His name." Spurgeon